Global AnyCast network with 20+ scrubbing centers and 12+ Tbps edge capacity.
Distributed globally stateful firewall with hole-punching enabled (patented in 2022).
AI technology with ML to analyze traffic in real time, define the optimal route.
XDP high-performance packet processing in the Linux kernel.
We Provide DDoS Protection For:
We provide DDoS network protection through a BGP connection - standard Ethernet uplink, GRE tunnel or IX.
We provide DDoS server protection - virtual, dedicated and collocated, that are in our network.
We provide DDoS protection for websites, applications and services that are in our network.
Key Features of Our DDoS Mitigation
DDoS Protection In a Global AnyCast Network
20+ scrubbing centers in best interconnected internet hubs world-wide.
12+ Tbps network edge capacity.
23+ IXs connected all over the world.
#16 for known peers globally (>3000).
#9 for known peers in the United States.
Scrubbing Centers (PoPs) for DDoS Mitigation
There are 20+ active scrubbing centers (points of presence) in 18 locations around the world, most of them in Equinix data centers. Six more PoPs are in the project phase. The DDoS defense network is constantly expanding.
Sofia
Frankfurt
Amsterdam
London
Madrid
Paris (soon)
Singapore
Sydney
Tokyo
Warsaw
Moscow
San Jose
Phoenix
Los Angeles
Chicago
New York
Miami
Dallas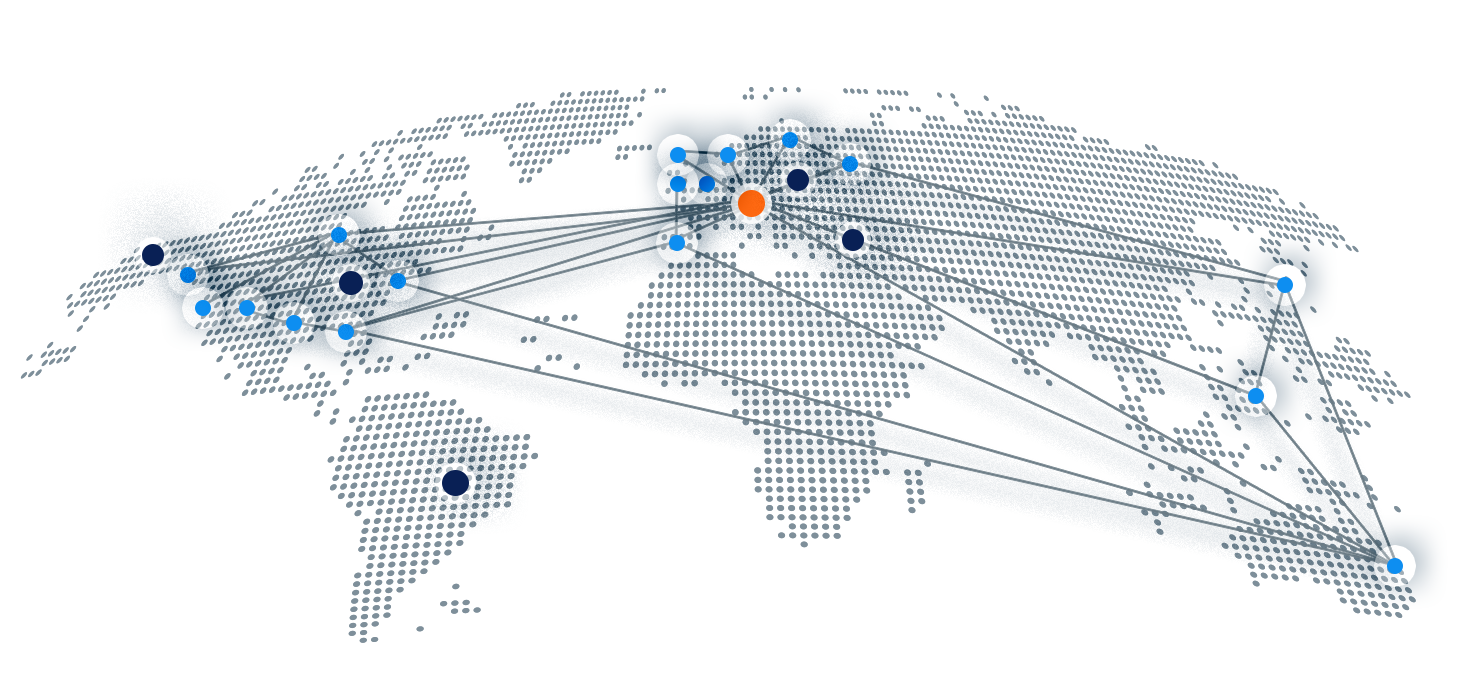 Active PoP

Sofia

In-progress PoP
DDoS attacks are being blocked in the scrubbing center closest to the source of illegal traffic.
XDP Technology
XDP (eXpress Data Path) is a technology that allows for high-performance packet processing in the Linux kernel by bypassing the traditional network stack. It can process packets at a much higher rate than traditional methods, allowing for the effective filtering and blocking of malicious traffic.
Custom packet processing logic
eBPF / XDP technology allows implementation of custom packet processing logic, which can be used to detect and mitigate specific types of DDoS attacks and to also develop custom DDoS filters for specific applications that can't be protected otherwise (with generic filtering).
Distributed Globally Stateful Firewall with Hole-punching Enabled
Distributed Globally Stateful Firewall with hole-punching enabled operates in a similar way to traditional stateful firewall, keeping track of the state of network connections and using this information to determine whether to allow or block incoming or outgoing packets.
The main advantage of a stateful cloud firewall is that it is highly scalable, as it can be deployed on a cloud infrastructure, allowing it to handle large volumes of traffic and protect against DDoS attacks. Additionally, a stateful cloud firewall can be easily managed and updated remotely.
Application Layer Filtering
Application layer filtering is based on protocol specifications as laid out in RFCs. It refers to the process of examining and controlling network traffic based on the specific protocols used in the application layer of the OSI model.

This can include protocols such as HTTP, FTP, and DNS, among others. The specifications for these protocols are laid out in Request for Comments (RFC) documents, which are published by the Internet Engineering Task Force (IETF).
AI Technology
High-efficiency and low latency
We apply AI technology with machine learning (ML) techniques to analyze network traffic in real time and make decisions about how to route that traffic to optimize performance and minimize latency.
AI determines what type of filters should be applied on a specific IP subnet (/32) based on the application that is running behind that IP. This is made available directly in the customer portal in the Discovered Services section.
Customers may not know what application is running behind an IP but they can manage results from our automated service discovery system and apply the corresponding filter with a simple click.
How do we Provide DDoS Protection?
In Our Network
We provide free DDoS mitigation to all our clients (cloud and dedicated servers).
If needed, more clean traffic capacity can be provided after ordering the relevant DDoS service packet.
If you need to protect your network, server, application or website, join our network.
Other Networks
BGP connection over standard Ethernet uplink (cross-connect) that has in-line DDoS filters.
BGP connection over GRE tunnel established over public Internet to a closest scrubbing center.
BGP connection over IX - private session when supported.
DDoS Solution Trusted by 500+ Clients
123.NET - big ISP in the USA, Michigan's Premier Data Center, Network, & Voice Services Provider.
VTX1 - the biggest ISP in Texas, providing phone, internet and TV services to rural communities in South Texas.
EasyDNS - Canadian ISP which supplies DNS and web hosting services.
ReadyIDC Co., Ltd. - data center operator in Thailand, providing IAAS in other regions as well.
ClouDNS - provider of global Managed DNS services, including GeoDNS, AnyCast DNS.
HerzaDigital Indonesia - big IAAS provider in Indonesia and also surrounding countries.
IP Projects GmbH - infrastructure provider in Germany.
Active 1 GmbH - data center operator in Germany.
VibeGames - one of the biggest game servers providers.
Piranha Systems - ISP in South Korea.
Core Technologys - large integrator, providing network consultancy and DDoS security to Middle East.
Our DDoS mitigation successfully protects more than 500 companies in various business sectors around the world.
The Most Vulnerable Industries
The most attacked industries globally vary according to the degree of digitization in the respective region, but are traditionally those with the highest public importance and handling consumer data.

Digitization opens up many opportunities for companies, but also poses the risk of malicious cyberattacks if complex protective measures are not taken.
Delta.bg is the exclusive partner and representative of Path Network at the Balkans
Bulgaria
Serbia
North Macedonia
Turkey
Romania
Greece
Kosovo
Croatia
Bosnia and Herzegovina
Montenegro
Slovenia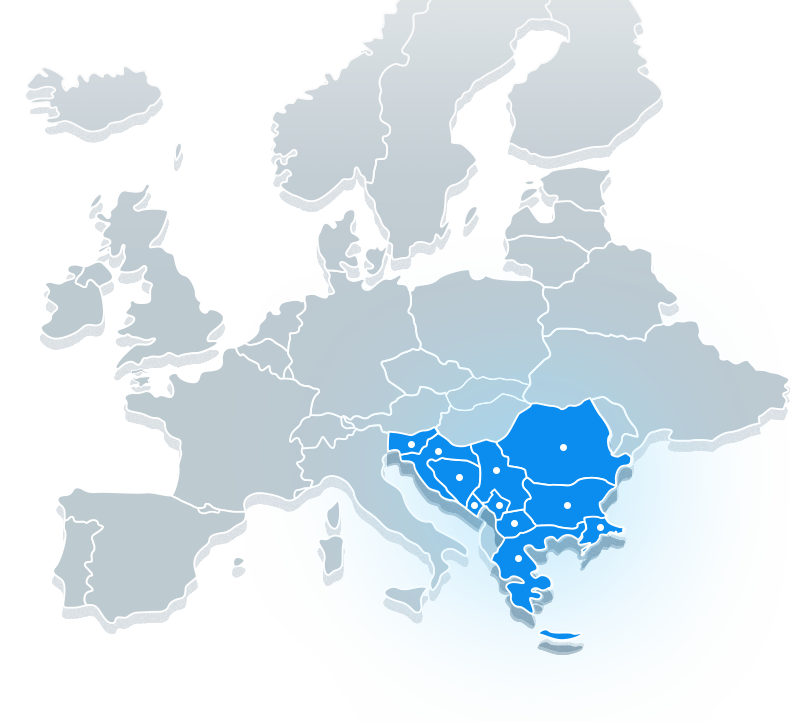 Contact Us
If you need more information or would like to receive a personalized offer, contact us using the contact form below:
Frequently Asked Questions
What is a DDoS attack?
DDoS is an abbreviation for Distributed Denial of Service. A DDoS attack aims to block users' access to a network, server or application. The attack can be done by exhausting resources or by exploiting a flaw in the software. They are used to extort, cause damage, harm reputation, deter customers, lose trust, and quite often to divert attention while another attack is being carried out in parallel. Most often, popular web servers are attacked with the aim of preventing them from fulfilling requests from the Internet. According to the Internet Architecture Board, this action is a computer crime that violates Internet ethics.

Typically, DDoS attacks are huge and require a large network capacity to be filtered. Our customers benefit from a global Anycast network where more than 20 scrubbing centers with 12 Tbps network edge capacity are interconnected worldwide and have a direct connection to 23+ IXs.
What is DDoS protection?
DDoS Protection aims to protect networks, servers, online business owners, websites and applications from DDoS attacks by tracking network activity to protected resources and blocking illegal traffic before it reaches them. For our customers' DDoS protection, we use scalable and high-efficient cloud-based technology with low latency and custom filters.
How are DDoS attacks carried out?
DDoS are performed relatively easily and at an affordable price, which is why their popularity is increasing. They are implemented by malicious persons through infected devices - computers, laptops, etc. or with breaches in the security of other devices on the Internet - the so-called Botnets.
Types of DDoS attacks
DDoS attacks vary in volume, frequency and complexity. They aim to limit the operation of a server:


Internet Control Message Protocol (ICMP) flood
(S)SYN flood
Teardrop attacks< /li>
Peer-to-peer attacks
Asymmetry of resource utilization in starvation attacks
Permanent denial-of-service attacks
Application-level floods
Nuke
HTTP POST DDOS attack
R-U-Dead-Yet? (RUDY)
Slow Read attack
Reflected/ Spoofed attack
Telephony denial-of-service
Denial-of-service Level II
Advanced Persistent DoS (APDoS)
How to be protected from DDoS attacks?
To be protected from DDoS attacks you need to use DDoS protection. Check out our AI-based DDoS protection in a global Anycast network with high performance and low latency.